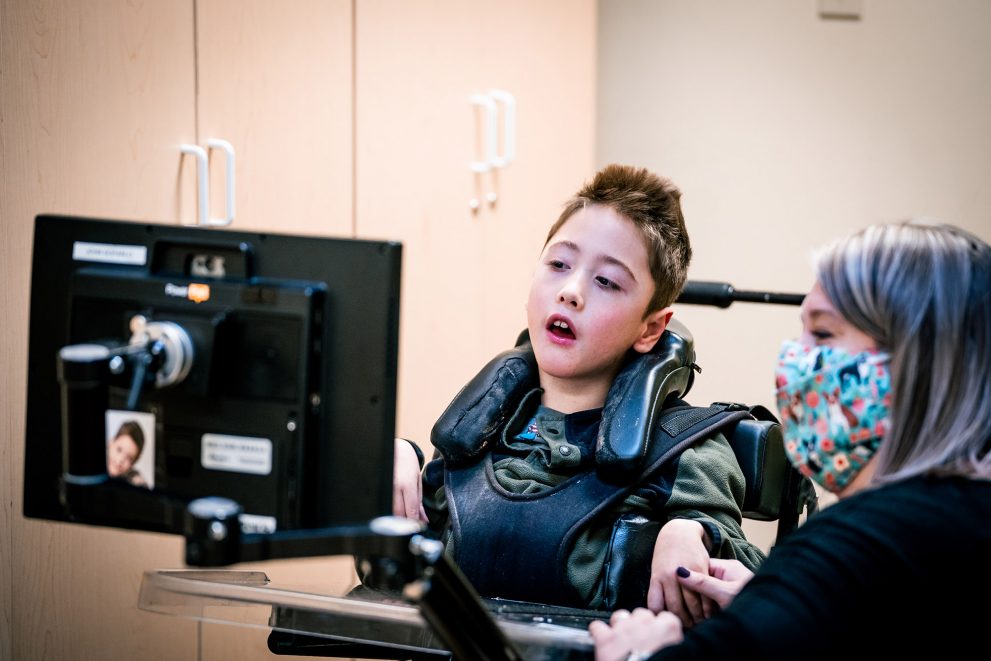 Renfrew's Augmentative & Alternative Communication Everywhere program provides opportunities for parents to ask questions about their child's Augmentative or Alternative Communications (AAC) systems, learn new ways to support their child's communication, and connect with other parents of children using AAC. All sessions are led by a speech-language pathologist, assistive technology specialist and an AAC user advisor who have experience using AAC to communicate across all age groups.
AAC Everywhere typically runs 3 times per year (fall, winter, and spring) and consists of a series of 5 sessions that take place once a month on Saturdays for 2 hours each. The first session is for parents, guardians and caregivers to learn more about AAC and share their experiences and knowledge with each other. The next four Saturdays involve community outings for the entire family that provide opportunities to learn how to use AAC in real world settings. These outings may include visits to parks, pools, libraries, playgrounds, fire stations, and other Calgary attractions. Siblings are welcome to attend, but to ensure safety and an optimal learning environment, an adult must accompany each child.
COVID-19 Update
As a precaution, AAC Everywhere is currently being offered virtually via Zoom. Children will have an opportunity to work on their AAC skills and make more AAC-user friends! Parents will have an opportunity to ask questions about their child's AAC system, learn new ways to support their child's communication, and connect with other parents of AAC-users.
Who it's for
Children ages 3 to 12 who use AAC systems such as iPads, NovaChat or PODD Communication Books.
Fees
For the latest fee information, please contact us.
Additional information
Each program consists of 5 sessions. Sessions take place on one Saturday a month for 2 hours. Locations vary.
Whether we have disabilities or not, learning how to adapt our environment is one of the most important and self- loving skills that we can develop, and I have the privilege of teaching children how to do that every single day.
Alma, Child Development Facilitator